Organic coffee infused with herbs
Premium Coffee. Enjoy the benefits.
If you are looking for a sustainable caffeine boost that supports your body and overall wellbeing, it's time to try something new
Backed by science, not just marketing claims​
The three herbs in combination with antioxidant properties of Arabica coffee improve this effect as well as increase the quality of the coffee and the pleasure drinking it. The three organic herbs added to Cafézia™ coffee are Hyssop, Yerba Mate and Sweet Woodruff, all of which have been known for generations for their health benefits.
Healthy and balanced boost in every cup
Cafézia Coffee adds the natural power of herbs to premium organic, fair trade coffee to give you a clean, focused energy to support your mind and body throughout the day.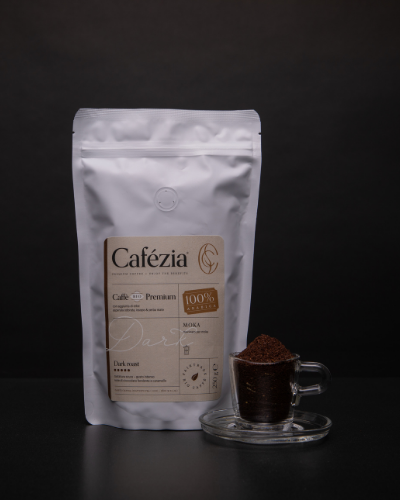 Cafézia is 100% premium organic Arabica coffee.
Its coffee beans are of the highest quality and infused with organic herbs.
Organic and Fairtrade Coffee
Cafézia is organic and Fairtrade certified. Grown in the high altitudes of plantations in Peru and Honduras, ensures this coffee's delicate, sweet and aromatic taste. Cafézia is a rich and intense coffee. A taste caresses one's senses and stimulates the mind and creativity.
Our Peruvian coffee beans are grown on the eastern slopes of the Andes in the central area between the pro- vinces of Chan Camayo and Satip. In addition to its exceptional beauty and remarkably pristine and natural surroundings, this area has optimum conditions for producing organic coffee beans of the highest quality. Peru boasts the largest number of certified Rainforest Alliance coffee plantations in the world.
Our Honduran coffee beans are grown in the shade of large trees, positively effecting the quality of our product. This also accounts for its full-bodied nature and pleasing acidic aroma. Given the mountai- nous terrain and abundance of trees, the coffee is harvested by hand. Honduras produces only Arabica coffees. These coffee beans are often classified as gourmet.
Invest in your health by choosing certified providers of coffee providing fair trade coffee for you and your family. Cafezia aims at delivering supreme-quality coffee fantastic in taste, texture, and feel.
Would you like to start Cafézia™ in your country?
Learn more about the possibilities of starting Cafézia brand in your country